Computer Physical Security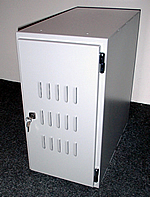 Most computers are designed to sit on desktops. Put them in a factory, warehouse, chemical plant, food processing plant or any other harsh environment and your asking for trouble. Breakdown, loss of data, the need to replace equipment…it can be an expensive business.
PC protection using PC Guard is the cost effective way to extend the life of a standard Tower or Desktop Processor unit in hostile situations.

Protect your investment with solid steel
PC Guard computer protection is made of steel to protect your PC's against physical damage. Other features include:
• Houses tower or desktop processor unit
• Filtered air supply with positive internal air pressure to combat airbourne dirt and debris
• Security locks to prevent tampering and theft

Plug 'n' Play design
PC Guard Computer Processor Unit is fully assembled, with all doors, locks and fan. So you can install and be using your PC Guarded processor within minutes.
Dimensions: 590mm deep x 578mm high x 335mm wide,
Door opening is 525mm x 275mm
Contact PC Guard for information on other enclosure products, optional extras or specials.